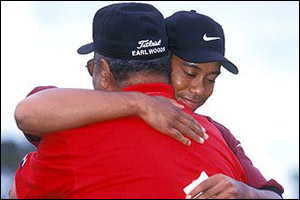 Note: This is part one of my latest article in October's Catholic Insight magazine. On a personal note, I'm a great fan of Tiger Woods, the golfer – and I pray for Tiger Woods, the man.
Earl Woods was once thought of as one of America's greatest dads – maybe even the world's. Who could forget the scene that ensued just off the 18th green at Augusta National Golf Club after Earl's son, Tiger Woods, had won his first Masters tournament going away in 1997. Father and son met in a tearful embrace that seemed to last forever.
Tiger, of course, became not only the world's most famous and successful athlete, but seemed to have the ultimate family life in his own right, what with his gorgeous wife Elin, and their two beautiful kids, daughter Sam Alexis and son Charlie. To complete the idyllic picture, they were often photographed playing with the family dogs, Taz and Yogi. Tiger – as a husband, a father, as a man – seemed to be following in his father's footsteps.
In fact he was, but in a way that no one could have imagined.
Of course, we now know that Tiger's carefully constructed family image was a fraud. Amid the myriad sordid revelations of Tiger Woods' adulterous affairs with women of ill repute, one woman emerged from Tiger's past whose relationship with Tiger by far antedated any of the rest: his high school sweetheart. She told of how the teenaged Tiger would call her on the phone and just weep, dissolving into tears. You see, Tiger had discovered that his dad was having an affair, cheating on his mom.
Earl Woods had already left one wife and another family before he had met and married Tiger's mom. It is also not so well-known that as soon as Tiger, who was Earl and Kultida Woods' only child, turned professional in 1996, his parents separated and no longer lived together, although they would often both show up to cheer their son on in tournaments. Tiger knew that, amidst the revelations of his own father's secret life, the only reason his parents stayed together was because of him. As if his life didn't already have enough pressure, what with his dad making pronouncements to the effect of, "Tiger will be more important for the world than Ghandi – you'll see".
Perhaps the way that Tiger will become so important is as a cautionary tale for parents. For the words of a parent are not nearly as important as their actions, as their example. Children may not always seem to be listening to what you say as a parent. But, trust me, they are all ears – and all eyes – when it comes to what you do.
http://www.thefaithexplained.com/content/uploads/2015/04/FX-logo@2x.png
0
0
Cale Clarke
http://www.thefaithexplained.com/content/uploads/2015/04/FX-logo@2x.png
Cale Clarke
2010-10-04 12:39:08
2010-10-04 12:45:35
Parenting Your Catholic Teen (Part One)