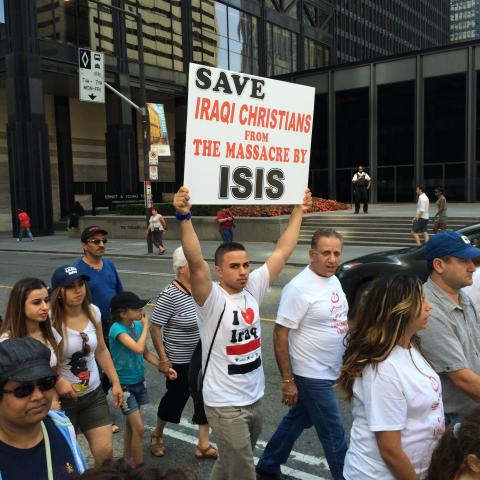 Following talks that I've given lately, I've fielded a lot of questions about the persecution of Iraqi Christians. All of us have been horrified by what we've heard; very often we're at a loss about what to do. Josh Canning over at Canadian Catholic has penned a nice post offering three practical action steps:
1. Write your MP (Member of Parliament in Canada; American readers can contact their elected representatives at State and Federal levels):
Sometimes we plan to do this and procrastinate. Please do it now. It does influence policy, and I am posting a letter below that you can cut and paste if you like.
2. Give
CNEWA launched an emergency appeal to help fleeing families in Iraq. How much should you give? $100 is a good bold number to start with. Maybe you can't give that much, maybe you can give more. Just make it sting a little. It helps! (Canadians give here or here; Americans can give here.

3. Pray
Let us, as a people of God, beg him daily for solutions to this crisis. Pray personally. Get together and pray in groups. Have Masses said for this intention. And fast from something.
When part of the body hurts the whole body feels it. Let's ache with and for our suffering family, and be generous.
Sample Letter to an MP
Hon. MP _______,
As a member of your riding, I am writing to ask you to advocate for a greater government response to the tragic events happening right now in Iraq. There is a genocide taking place against Iraq's Christian community. Along with the archbishop of Toronto, Thomas Cardinal Collins, I ask that all bureaucratic barriers be removed to accept Iraqi refugees who are being displaced, hunted down and murdered by the Islamic State (formerly ISIS).
The number of victims is vast and rapidly growing. Women, children and the elderly are dying of exposure. Please do what you can to ensure our government will do its part to urgently provide the humanitarian support needed.
Thank you,
(Your name)
PLEASE SHARE THIS POST
Josh's full post is well worth reading – and sharing.