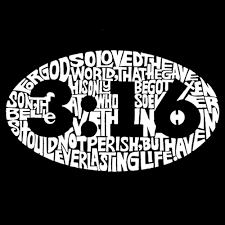 This Sunday's Gospel (for the Fourth Sunday of Lent) is one of the most famous passages, if not the most famous passage, in the entire Bible. The passage in question, of course, is from Chapter Three of John's Gospel. This section contains the single most memorable verse in Scripture for most people in the culture at large. This, of course, is John 3:16:
For God so loved the world that he gave his only Son, so that everyone who believes in him might not perish, but might have eternal life.
One reason this verse is so ubiquitous is that it's often displayed on "bedsheet banners" at sporting events. It has been called "the Bible in a nutshell" and "the Gospel in a nutshell". And this is Good News indeed: by Jesus' Passion, death, and Resurrection, God has made it possible for us to obtain forgiveness of our sins and attain eternal life and friendship with God.
But one thing that many people don't focus on is what comes after John 3:16. So many remember John 3:16, but so few think about John 3:18, which, we musn't forget, is just as much God's word as John 3:16 is. Here's John 3:18:
Whoever believes in him will not be condemned, but whoever does not believe has already been condemned, because he has not believed in the name of the only Son of God.
The "flipside" of the Good News is the Bad News: not everyone goes to heaven. In fact, the Good News of the Gospel wouldn't be so good if that sad truth were not a reality.
And people, if they are thinking properly, absolutely cannot blame God for the fact that many are not saved. As a priest friend said in a homily last week, God had a choice: to either create a world with love, or a world without love. To love requires freedom. Freedom means that one can say "no". No to God, and no to love. "The door to hell is locked from the inside", wrote C.S. Lewis. In other words, people send themselves to hell by freely rejecting the salvation Christ offers.
This should cause us to redouble our efforts to not only do penance for family and friends who are far from the Lord this Lent, but to share the Good News with them, too!