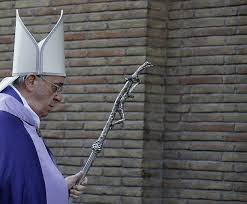 In the previous post, we talked about the Holy Father's Message for Lent this year – specifically, the section aimed at local Catholic parishes. There was an intriguing phrase Pope Francis used in the letter, and it's becoming one of the themes of his pontificate: namely, what he calls the "globalization of indifference". This is one of the Pope's great concerns on the global level, but what exactly does he mean by this? The problem, as he notes, begins with individuals. Let us carefully read his own words on this subject (again, from his Lenten Message):
Lent is a time of renewal for the whole Church, for each community and every believer. Above all it is a "time of grace" (2 Cor 6:2). God does not ask of us anything that he himself has not first given us. "We love because he first has loved us" (1 Jn 4:19). He is not aloof from us. Each one of us has a place in his heart. He knows us by name, he cares for us and he seeks us out whenever we turn away from him. He is interested in each of us; his love does not allow him to be indifferent to what happens to us. Usually, when we are healthy and comfortable, we forget about others (something God the Father never does): we are unconcerned with their problems, their sufferings and the injustices they endure…our heart grows cold. As long as I am relatively healthy and comfortable, I don't think about those less well off. Today, this selfish attitude of indifference has taken on global proportions, to the extent that we can speak of a globalization of indifference. It is a problem which we, as Christians, need to confront.
When the people of God are converted to his love, they find answers to the questions that history continually raises. One of the most urgent challenges which I would like to address in this Message is precisely the globalization of indifference. Indifference to our neighbour and to God also represents a real temptation for us Christians. Each year during Lent we need to hear once more the voice of the prophets who cry out and trouble our conscience. God is not indifferent to our world; he so loves it that he gave his Son for our salvation. In the Incarnation, in the earthly life, death, and resurrection of the Son of God, the gate between God and man, between heaven and earth, opens once for all. The Church is like the hand holding open this gate, thanks to her proclamation of God's word, her celebration of the sacraments and her witness of the faith which works through love (cf. Gal 5:6). But the world tends to withdraw into itself and shut that door through which God comes into the world and the world comes to him. Hence the hand, which is the Church, must never be surprised if it is rejected, crushed and wounded. God's people, then, need this interior renewal, lest we become indifferent and withdraw into ourselves.
Pope Francis writes in a very clear, immediate style, so it is not at all difficult to understand his emphasis here. May we take his words to heart this Lent, and firmly reject the selfishness that makes us so indifferent to God and others. Let us allow God to renew us as we begin our joyful journey towards Easter!