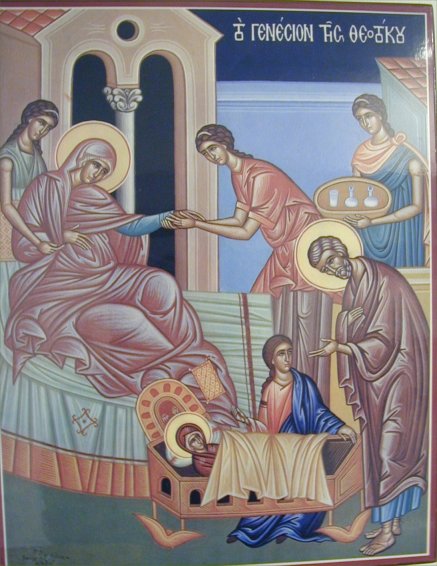 Today we celebrate the Nativity of our Blessed Mother, nine months after the Feast of her Immaculate Conception on December 8. There are only three persons whose births are celebrated with a liturgical feast in the Catholic Church: Jesus himself (of course), Mary, and John the Baptist.  Today's Gospel reading from Matthew 1 about the genealogy  of Jesus can seem to some as exciting as reading through the local phone book. But Pope Benedict, preaching on a Marian pilgrimage to Austria on the Nativity of Mary back in 2007, sheds some light on the deeper meaning of this text:
The Gospel passage we have just heard broadens our view. It presents the history of Israel from Abraham onwards as a pilgrimage, which, with its ups and downs, its paths and detours, leads us finally to Christ. The genealogy with its light and dark figures, its successes and failures, shows us that God can write straight even on the crooked lines of our history. God allows us our freedom, and yet in our failures he can always find new paths for his love. God does not fail. Hence this genealogy is a guarantee of God's faithfulness; a guarantee that God does not allow us to fall, and an invitation to direct our lives ever anew towards him, to walk ever anew towards Jesus Christ.
Making a pilgrimage means setting out in a particular direction, travelling towards a destination. This gives a beauty of its own even to the journey and to the effort involved. Among the pilgrims of Jesus's genealogy there were many who forgot the goal and wanted to make themselves the goal. Again and again, though, the Lord called forth people whose longing for the goal drove them forward, people who directed their whole lives towards it. The awakening of the Christian faith, the dawning of the Church of Jesus Christ was made possible, because there were people in Israel whose hearts were searching – people who did not rest content with custom, but who looked further ahead, in search of something greater: Zechariah, Elizabeth, Simeon, Anna, Mary and Joseph, the Twelve and many others. Because their hearts were expectant, they were able to recognize in Jesus the one whom God had sent, and thus they could become the beginning of his worldwide family. The Church of the Gentiles was made possible, because both in the Mediterranean area and in those parts of Asia to which the messengers of Jesus travelled, there were expectant people who were not satisfied by what everyone around them was doing and thinking, but who were seeking the star which could show them the way towards Truth itself, towards the living God.
A brief note on the icon, The Nativity of the Theotokos (Greek: "God-bearer"): you may notice that Mary's crib resembles a temple. Fitting, for in carrying our Lord in utero years later, she was indeed a true temple, the living God existing within.
http://www.thefaithexplained.com/content/uploads/2015/04/FX-logo@2x.png
0
0
Cale Clarke
http://www.thefaithexplained.com/content/uploads/2015/04/FX-logo@2x.png
Cale Clarke
2010-09-08 12:08:41
2010-09-08 14:01:00
Pope Benedict on the Nativity of Mary