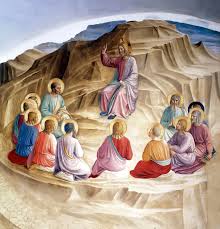 Q. In this Sunday's Gospel, we have the most important section of the Sermon on the Mount in the Gospel of Matthew. Why is this material so crucial?
A. Matthew is a very Jewish Gospel. It was not the first Gospel to be written (that, in all likelihood, would be the Gospel of Mark), but it is placed first in the New Testament canon because it is a natural bridge between the Old and New Covenants (in fact, the words "testament" and "covenant" mean the same thing).
Matthew highlights the mission of Jesus to Gentiles, to be sure (cf. 28:19-20). But he is striving to show to his fellow Jews that Jesus was not, as he had been accused of being in Jewish circles, a lawbreaker – that is, he did not circumvent the law of the Old Testament. This is why Matt 5:17 is so crucial: "Do not think that I have come to abolish the law or the prophets; I have not come to abolish but to fulfill."
In fact, when Jesus says, "Do not think…" he is referencing the Maccabean martyrs, who also preserved the law, despite hideous tortures at the hands of the pagan tyrant Antiochus IV Epiphanes: "But do not think that you will go unpunished for having tried to fight against God!" (2 Macc 7:19).
Q. But if Jesus isn't "changing", or altering the law, why does he give a series of examples prefaced by the formula, "You have heard it said…But I say to you…"?
A. What Jesus is doing here is bringing out the true meaning of the law – its correct interpretation, contra the erroneous takes on the law given by popular teachers of Jesus' day. These examples are known as the "antitheses" of the Sermon on the Mount.
Far from abolishing the law, Jesus' demands are even more strict than what was commonly taught in the Judaism of that time. Jesus deals with the inner attitudes of the heart, from which sins spring (cf. Matt 15:19). In this way, he highlights the true intent of the law, which was to transform the inner person, not simply to outlaw certain behaviors.
In one of the antitheses, for example, Jesus says, "You have heard that it was said, 'You shall not commit adultery' (Ex 20:14 = Deut 5:18). But I say to you that everyone who looks at a woman lustfully has already committed adultery with her in his heart" (Matt 5:27-28). Jesus then brings up the topic of divorce and remarriage in 5:31-32 (which Jesus says is adultery). This is very interesting in light of John the Baptist's criticism of Herod Antipas' illicit marriage to his brother Philip's wife, Herodias, for which John paid with his life (Matt 14:1-12). Jesus strikes at the heart of the issue by correctly pegging the cause of adulterous divorce and remarriage as lust, from which indeed much sexual sin springs.
http://www.thefaithexplained.com/content/uploads/2015/04/FX-logo@2x.png
0
0
Cale Clarke
http://www.thefaithexplained.com/content/uploads/2015/04/FX-logo@2x.png
Cale Clarke
2014-02-16 19:38:53
2014-02-16 19:38:53
Jesus: Lawmaker, Not Breaker