Tell what the Lord has done for you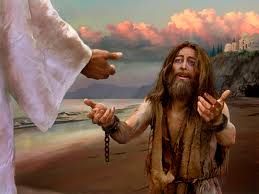 Today's Gospel reminds us of the incredible power of Jesus the exorcist. He casts out a "legion" of demons from the Gerasene demoniac. There have been many modern scholars who wish to rebrand the New Testament cases of demonic possession as merely misdiagnosed mental illness. The thinking is that the ancients had no concept of such diseases,as we "enlightened" 21st-centry people do. This theory is preposterous on many levels, but there are two facts in this particular case that make such a diagnosis impossible.
One, as those who study demonology know, those possessed by malevolent spirits often exhibit enormous physical strength, disproportionate to their natural capacities. In this case, check.
Also, the fact that Jesus sent the demons into the pigs, who rushed headlong over the cliffs into the sea (what a hogwash!), is an objective physical manifestation that cannot be explained away by an interior, subjective mental state.
The freed man is so grateful to the Lord that he desires with all his heart to join the Apostolic band – the hierarchy of the nascent Church, if you will. But Jesus says no. That's not his vocation, as it were. Jesus wants him to engage in a personal apostolate, telling everyone he meets about what Christ has done for him.
We are all called to the same mission. Our baptism demands that we seek two things: holiness and apostolate. If we don't have that fiery passion to tell others about Christ, we may be in danger of falling into lukewarmness and eventually spiritual death.
Break those fetters, your own chains of fear that prevent you from speaking to your friends about the Lord. As Saint Paul says in another place, "the word of God is not chained" (2 Timothy 2:9).