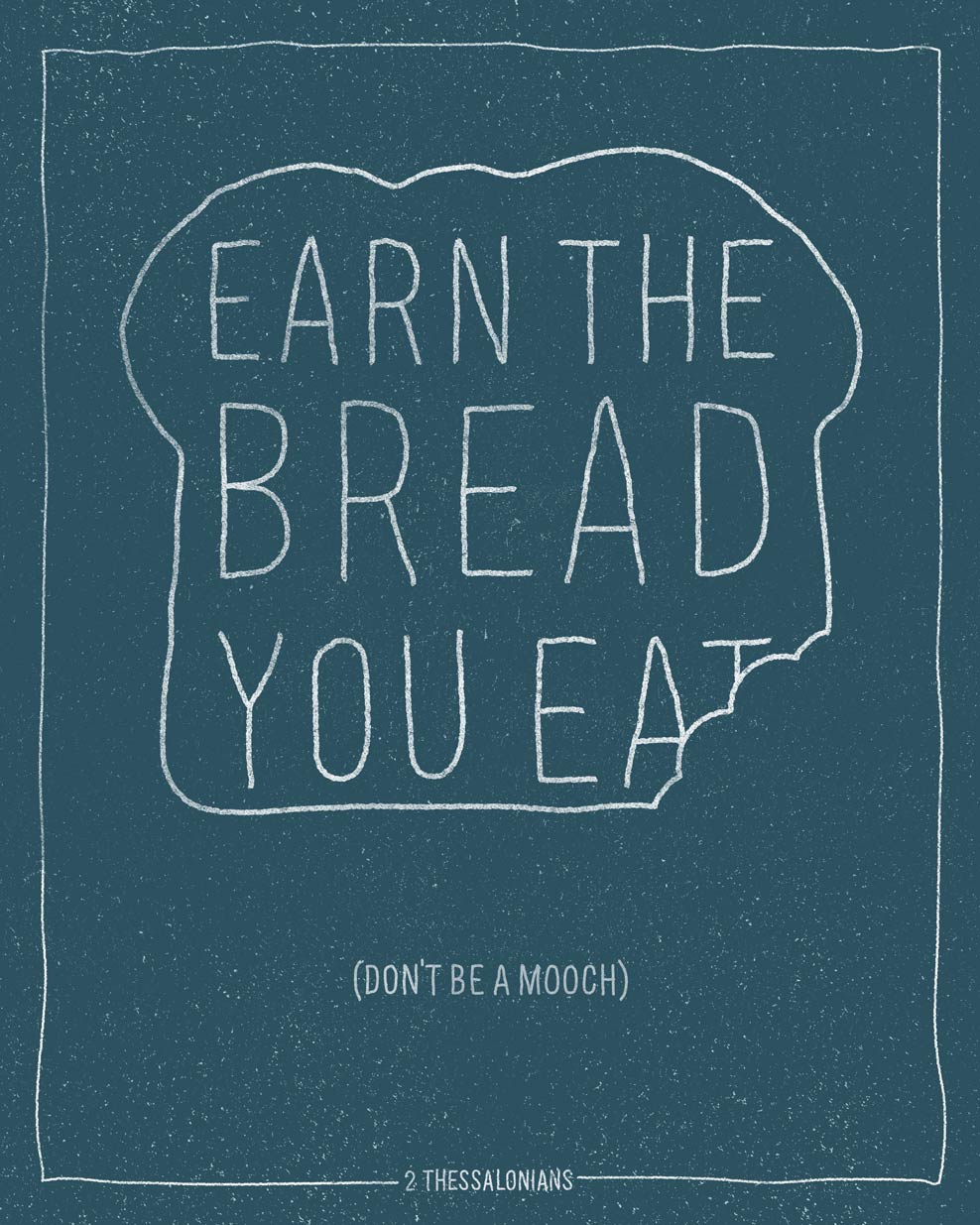 In this Sunday's Second Reading (33rd Sunday in Ordinary Time), we heard Saint Paul address the Thessalonians:
Brothers and sisters:
You know how one must imitate us.
For we did not act in a disorderly way among you,
nor did we eat food received free from anyone.
On the contrary, in toil and drudgery, night and day
we worked, so as not to burden any of you.
Not that we do not have the right.
Rather, we wanted to present ourselves as a model for you,
so that you might imitate us.
In fact, when we were with you,
we instructed you that if anyone was unwilling to work,
neither should that one eat.
We hear that some are conducting themselves among you in a
disorderly way,
by not keeping busy but minding the business of others.
Such people we instruct and urge in the Lord Jesus Christ to work quietly
and to eat their own food.
– 2 Thessalonians 3:7-12
Saint Paul is extremely forceful and commanding in his instructions to the Thessalonians here – and, by extension, to us. He speaks to both wrongdoers and the congregation as a whole with power: "We command and exhort you…in the name of our Lord Jesus Christ". This is the strongest language Paul could have used. And what does Paul command? That certain people in the congregation stop being "disorderly" (which is sometimes translated as "idle").
It's not necessarily the case that these people were idle in the sense of being inert or slothful – "couch potatoes", as it were. In fact, it appears they were quite "busy" in their own way – but not in a good way. They were being what Paul calls "busybodies". That is, they were spending a lot of time and effort "meddling in the affairs of others" – literally, "minding other people's business". The so-called "work" that they were doing was not at all productive or helpful for the community. Rather, it was downright disorderly and harmful.
One is reminded of a maxim from Saint Josemaria Escriva:
You are untiring in your activity. But you fail to put order into it, so you do not have as much effect as you should. It reminds me of something I heard once from a very authoritative source. I happened to praise a subordinate in front of his superior. I said, "How hard he works!" "You ought to say", I was told, " 'How much he rushes around!'"
You are untiring in your activity, but it is all fruitless…How much you rush around!
– Furrow, 506
Mere "busyness" can actually be a hidden form of laziness and love of comfort, not to mention disorderliness. Sure, a person can be running around, doing a whole bunch of "stuff" – but they are not the things the person ought to be doing.
There is also the very real temptation of being a "busybody" in another sense – that of being a gossip. This has always been a temptation whenever and wherever people live together, but it is a constant temptation in parish life – for both clergy and laity. As disciples of Jesus Christ, we simply must stop speaking about others behind their backs.
Saint Paul set the Church a powerful example in this regard, by doing hard, constructive, and productive work (in his case, as a tentmaker). He provided for his own needs, and even those of others, so that he was not dependent on anyone else (cf. 1 Thess. 4:11-12). Although, as an apostle, Paul could have received his living from the congregation, he chose not to. He did this so that he could provide a model for how his disciples should live in the world as Christians.
Saint Paul shows that work well done for God's glory in any honest profession is the "hinge" of our sanctification in the world. We can sanctify our work, we can sanctify ourselves through our work, and we can also sanctify others through our work.
http://www.thefaithexplained.com/content/uploads/2015/04/FX-logo@2x.png
0
0
Cale Clarke
http://www.thefaithexplained.com/content/uploads/2015/04/FX-logo@2x.png
Cale Clarke
2016-11-13 20:56:05
2016-11-13 20:56:05
Sunday Scriptures: Thessalonian Idle