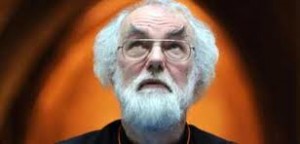 Call it an Anglican communion confusion. Charles Lewis, writing in today's National Post cover story, tells us that "Canadian Anglicans will hold discussions this spring about whether baptism is necessary for taking part in communion – questioning a requirement of Christianity that has existed for 2,000 years."
The reason? Numbers are down! The Anglican communion in Canada has been bleeding members for years. According to the Post article, the organization is down to only 500,000 members, whereas it had 1.3 million only decades ago. The hope is that another attempted Anglican change of the rules of the game will attract more fans.
I'm reminded of the wise words of Peter Kreeft, who once noted that the Catholic Church is always being accused of trying to impose some sort of a draconian authority over its members, but the reality is that other Christian communities actually claim far, far more authority for themselves than does the Catholic Church.
How so? Kreeft says that these communities are constantly changing the teachings of Christ to suit their own needs and whims, but the Catholic Church does not – and cannot – do so. She simply doesn't have the authority. She is not free to alter the teachings of her Lord. Kreeft says that "authority", after all, means "author's rights". We are not the authors of Christ's teaching, and we are not free to edit it – we're only the mail carriers. Our job is simply to pass on the teaching of Christ intact to the next generation, unpopular though it may be.
But, even if Anglicans do open up their communion table to all, our Lord won't be offended in the least. After all, Anglicans haven't had valid Holy Orders for centuries. They may think they have a valid eucharist, but without validly ordained priests and bishops, it can never be the Eucharist – the true Body and Blood of Christ. Deep down, many Anglicans realize this, just as Cardinal John Henry Newman did before coming home to the Catholic Church. He noted that the leftover, and allegedly consecrated, communion elements from a service were summarily dumped in the trash. He realized that this could not possibly be the Eucharist the early Christians spoke of – no matter who gets to partake of it. And no amount of misguided marketing could ever change that fact.
http://www.thefaithexplained.com/content/uploads/2015/04/FX-logo@2x.png
0
0
Cale Clarke
http://www.thefaithexplained.com/content/uploads/2015/04/FX-logo@2x.png
Cale Clarke
2011-03-08 22:21:39
2011-03-08 22:29:58
Re: Anglicans to consider opening communion to unbaptized