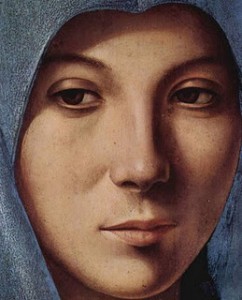 Today's Gospel is the famous account of the Annunciation from Luke 1:26-38. It includes some indirect proof for two major Marian dogmas of the Church – the Immaculate Conception (which was recently celebrated on Dec. 8), and the perpetual virginity of Our Lady. It also gives us part of the biblical roots of the "Hail Mary".
When the archangel Gabriel greets Mary, it marks the only recorded incident in scripture that an angel greets someone by their title, not their name. "Hail, Full of Grace, the Lord is with you" (Lk 1:28). This, of course, is the first line of the "Hail Mary", with the second line, "Blessed are you among women, and blessed is the fruit of your womb", from Luke 1:42. So much for the ridiculous argument that the prayer is "unbiblical".
But what of those dogmas? Speaking of the phrase, "Full of Grace", in the original Greek of Luke's Gospel, it is an interesting term: "kecharitomene". It means, literally, "one who has been made full of God's grace" (biblical translations that render this term "highly favored one", or something to that effect, don't cut it) . It's a past perfect, meaning that, at some point in the past, Mary was made perfectly full of God's grace. This condition extends out into the future, into eternity. This is exactly what the Immaculate Conception is all about  – that, from the first moment of her existence, Mary was preserved free from all stain of original sin. If one is perfectly full of the grace of God, there is no room for sin.
With respect to the perpetual virginity, Gabriel explains to Mary that she will bear the Messiah, and at this point he has said nothing about Jesus being conceived by the Holy Spirit. Yet, Mary says, "How can this be, since I am a virgin?" (Lk 1:34). A very strange question for a young woman to ask, who, as we have already been told, was engaged to be married. Unless, that is, she had already intended to remain a virgin, consecrating herself wholly to God.
http://www.thefaithexplained.com/content/uploads/2015/04/FX-logo@2x.png
0
0
Cale Clarke
http://www.thefaithexplained.com/content/uploads/2015/04/FX-logo@2x.png
Cale Clarke
2011-12-18 22:09:44
2011-12-18 22:39:02
Mary of the Annunciation