The Ultimate Apologetic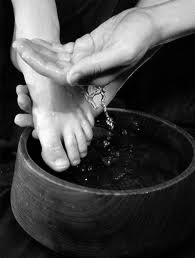 After attending the Mass of the Lord's Supper tonight, commemorating the institution of the Mass that first Holy Thursday, many stayed in a silent vigil with our Eucharistic Lord. While praying before the altar of repose, I reflected on what Jesus taught his Apostles that night. As always, he lived his own teaching, his words matching his deeds exactly. He had told them, "By this all people will know that you are my disciples, if you have love for one another" (John 13:35). And that love should be manifested in humble service. Christ demonstrated it by taking on the role reserved for the lowest servant: the Lord of the universe washed his disciples' feet.
This Easter, what may wind up convincing people of the truth of our faith may not be the impressive array of arguments at our disposal that authenticate the Resurrection of Jesus as a historical event, although we should use them whenever we can. It may in fact be something less intellectual, but no less real: our love and service on behalf of others, in Jesus' name. Some are "caught" by the head; others, by the heart.