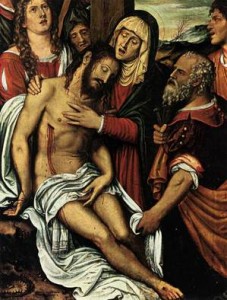 Even as we prepare to celebrate the Resurrection of Jesus Christ on Easter Sunday, this Holy Saturday is a good time to examine the reality of Jesus' death and burial. It has become necessary to do this because both events have been denied by skeptics over the years. It is also important because, in order for Christianity to be true, Jesus must have died, for without his death there could not have been a Resurrection. He also must have been buried, because  scripture and the Church have constantly asserted this fact as part of the kerygma.
1. The death of Jesus. Scholar Gary Habermas states that "the death of Jesus is the most recorded event in ancient, non-Christian history" (The Historical Jesus, p. 281). In an earlier post, we looked at Habermas' use of the Roman historian Tacitus to this effect. Here is another quote from another, non-Christian source, referring to the death of Jesus (there are numerous Christian references to this as well, but I find secular sources are often more convincing to secular people). This one is from the Jewish Talmud, which was compiled between AD 70-200:
"On the eve of the Passover, Yeshu was hanged. For forty days before the execution took place, a herald went forth and cried, 'He is going forth to be stoned because he has practiced sorcery and enticed Israel to apostasy. Any one who can say anything in his favour, let him come forward and plead on his behalf.' But since nothing was brought forward in his favour he was hanged on the eve of the Passover!"
- Quoted in Habermas, The Historical Jesus, p. 203
2. The burial of Jesus. Affirming this fact is necessary due to theories like that of former Catholic priest John Dominic Crossan, who famously claimed that Jesus' dead body was likely thrown into a shallow common grave, where it was eaten by dogs. While not denying that at times in late antiquity, the Romans would leave bodies on crosses to be mauled by animals and birds of carrion (as a public deterrent to revolt), there is no chance this happened to Jesus, because it was peacetime. For Pilate to have left Jesus' body hanging on the cross overnight during Passover would have been a fatal mistake, all but guaranteeing a riot by the myriad Jews gathered in Jerusalem for the feast. The Romans never would have risked offending Jewish sensibilities here, which they respected during times of calm. Leaving Jesus' body on the cross would have defiled the land (see Deut. 21:22-23), making it impossible for Jews to celebrate the feast in an acceptable manner. No, Jesus did receive a proper burial with the help of Joseph of Arimathea, an undoubtedly historical reference (no early Christian would have invented a story of Jesus receiving a proper burial, not from his followers, but from a member of the very council that condemned him).