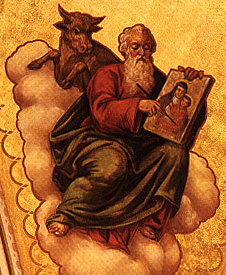 I recently came across a very interesting blog by Lee Thomas Dahn. It's called Most Excellent Theophilus, and astute bibliophiles will recognize the name Theophilus immediately. Theophilus, of course, was the addressee of Luke the Evangelist's 2-part series, The Gospel According to Luke, and The Acts of the Apostles – both of which became part of the New Testament canon. 
It has become de rigeur in New Testament studies to suggest that Theophilus was a Roman nobleman or official of some sort, who was the patron bankrolling Luke's evangelistic project. But Dahn suggests otherwise:
Theophilus was the high priest of 37-41CE. This Theophilus was the son of Annas, high priest of 6-15CE. Theophilus was brother to four other first-century high priests: Eleazar, Jonathan, Matthias, and Ananus. His brother-in-law was Caiaphas, high priest of 18-36CE. This family filled the office for 35 years between 6 and 43CE.
If this is the case, this would challenge some cherished assumptions about Luke's work. Commentators commonly suggest that Luke was writing to a predominantly Gentile audience, being one himself (in fact, the only non-Jewish NT author). But Luke was also well acquainted with the OT, given the artful allusions to it he makes in his Gospel. It is quite possible that Luke's work, although universal (Catholic) in scope, was of particular interest to his Hebrew audience – especially a certain man who was once High Priest.
This thesis also has great explanatory power. It explains why Luke opens his Gospel not with the Annunciation, but rather with the account of Zechariah the priest, serving in the Temple. It also sheds light on certain accounts from the life of Christ only recorded in Luke (and likely obtained through interviews with Mary herself) – for example, the relating of Jesus' disappearance in Jerusalem at twelve years old, where he is found debating in the Temple precincts with the teachers of the law.
This incident in particular would have caused quite a sensation in the Holy City, and certainly would not have escaped the notice of Annas, Theophilus' father, who was High Priest at the time. Theophilus likely would have heard about this from his own father's lips – and now, Luke mentions it again to buttress his case for Christ, the true, eschatological high priest.
Dahn's blog features a post about this passage and many others from Luke-Acts, all of them well worth reading. Here's hoping he continues the project!
http://www.thefaithexplained.com/content/uploads/2015/04/FX-logo@2x.png
0
0
Cale Clarke
http://www.thefaithexplained.com/content/uploads/2015/04/FX-logo@2x.png
Cale Clarke
2008-11-02 10:06:24
2008-11-02 10:09:52
Most Excellent Theophilus