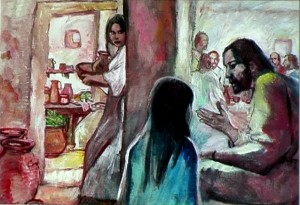 It's nice that Martha can enjoy her own feast day today for a change! Seriously, though, Martha is known for busying herself with (necessary) chores surrounding a visit of Jesus to her home for a feast, while her sister Mary didn't appear to be too helpful, content to simply sit at the Lord's feet, and soak up his wisdom:
Now as they went on their way, he entered a village; and a woman named Martha received him into her house. And she had a sister called Mary, who sat at the Lord's feet and listened to his teaching. But Martha was distracted with much serving; and she went to him and said, "Lord, do you not care that my sister has left me to serve alone? Tell her then to help me". But the Lord answered her, "Martha, Martha, you are anxious and troubled about many things; one thing is needful. Mary has chosen the good portion, which shall not be taken away from her" (Luke 10:39-42).
This account reminds us that the Lord doesn't so much want "yours" as much as he wants you.
But, having said that, we must strive to fuse the very best of what Martha and Mary show us: service and prayer. If we can unite the work ethic in serving Christ of Martha, with the deep contemplative life of Mary, we have a recipe for a unity of life that will unite us with Christ in whatever we do, wherever we are. Thus, we will make all of life worship, and a sweet-smelling sacrifice for Jesus, just as the perfume Mary lavished on his feet (John 12:3).
http://www.thefaithexplained.com/content/uploads/2015/04/FX-logo@2x.png
0
0
Cale Clarke
http://www.thefaithexplained.com/content/uploads/2015/04/FX-logo@2x.png
Cale Clarke
2009-07-29 21:27:59
2009-08-15 21:31:38
On the Feast of Saint Martha