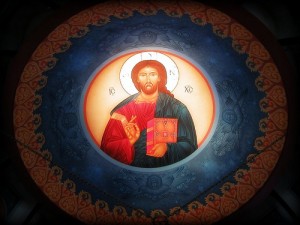 I've always been a Superman fan, and I've even explored connections between the Last Son of Krypton and the only-begotten Son of God in a previous article. Superman had, of course, X-ray vision, but Jesus has something even more insightful: the ability to read minds, hearts, and souls. In today's gospel, Jesus again confronts his archenemies, the Pharisees, and unleashes a devastating blast that should forever put to rest the liberal caricature of a mild-mannered, milquetoast Jesus who "would never criticize anyone":
Jesus said,
"Woe to you, scribes and Pharisees, you hypocrites.
You are like whitewashed tombs, which appear beautiful on the outside,
but inside are full of dead men's bones and every kind of filth.
Even so, on the outside you appear righteous,
but inside you are filled with hypocrisy and evildoing.
"Woe to you, scribes and Pharisees, you hypocrites.
You build the tombs of the prophets
and adorn the memorials of the righteous,
and you say, 'If we had lived in the days of our ancestors,
we would not have joined them in shedding the prophets' blood.'
Thus you bear witness against yourselves
that you are the children of those who murdered the prophets;
now fill up what your ancestors measured out!"
Ouch.
Now, knowing our own hypocrisy, as well as our Lord's inability to be fooled by outward appearances, we might be tempted to flee from his presence, given the many skeletons we keep buried in the tombs of our hearts – but there is no escape from his penetrating gaze, as today's Psalm points out:
Responsorial Psalm
Ps 139:7-8, 9-10, 11-12ab
R.  (1) You have searched me and you know me, Lord.
Where can I go from your spirit?
From your presence where can I flee?
If I go up to the heavens, you are there;
if I sink to the nether world, you are present there.
R. You have searched me and you know me, Lord.
If I take the wings of the dawn,
if I settle at the farthest limits of the sea,
Even there your hand shall guide me,
and your right hand hold me fast.
R. You have searched me and you know me, Lord.
If I say, "Surely the darkness shall hide me,
and night shall be my light"–
For you darkness itself is not dark,
and night shines as the day.
R. You have searched me and you know me, Lord.
There's nowhere to run. No matter what others think of us, God knows the truth – who we really are, what we're really like, when we think no one is looking. But here's something else that's true:
He loves us anyway.
So don't run away from God, but run to him! He receives us with open arms, and begins to transform us into the men and women we ought to be, just as he did with Saint Paul. Just listen to what Paul says in the first reading:
You recall, brothers and sisters, our toil and drudgery.
Working night and day in order not to burden any of you,
we proclaimed to you the Gospel of God.
You are witnesses, and so is God,
how devoutly and justly and blamelessly
we behaved toward you believers.
As you know, we treated each one of you as a father treats his children,
exhorting and encouraging you and insisting
that you walk in a manner worthy of the God
who calls you into his Kingdom and glory.
And for this reason we too give thanks to God unceasingly,
that, in receiving the word of God from hearing us,
you received it not as the word of men, but as it truly is, the word of God,
which is now at work in you who believe.
Yes, because God's word is at work in us, we too are being transformed – as Paul himself was – and can walk justly and blamelessly, in a manner worthy of the God who calls us into his Kingdom and glory.
http://www.thefaithexplained.com/content/uploads/2015/04/FX-logo@2x.png
0
0
Cale Clarke
http://www.thefaithexplained.com/content/uploads/2015/04/FX-logo@2x.png
Cale Clarke
2009-08-26 21:46:53
2009-08-26 22:37:04
The Lord Knows