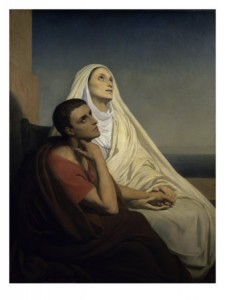 With yesterday being the feast of Saint Monica, and today being that of Saint Augustine, her son, there's no better occasion to remember that no one, no matter how grievous a sinner or how far one has strayed from the Church, is beyond redemption. Case in point: Augustine. His younger years were spent in the type of dissolution Saint Paul condemns in today's first reading:
Brothers and sisters,
we earnestly ask and exhort you in the Lord Jesus that,
as you received from us
how you should conduct yourselves to please God–
and as you are conducting yourselves–
you do so even more.
For you know what instructions we gave you through the Lord Jesus.
This is the will of God, your holiness:
that you refrain from immorality,
that each of you know how to acquire a wife for himself
in holiness and honor, not in lustful passion
as do the Gentiles who do not know God;
not to take advantage of or exploit a brother or sister in this matter,
for the Lord is an avenger in all these things,
as we told you before and solemnly affirmed.
For God did not call us to impurity but to holiness.
Therefore, whoever disregards this,
disregards not a human being but God,
who also gives his Holy Spirit to you.
By the time Augustine was in his 20s, he had left the Church, fathered a child out of wedlock, and joined a cult (the Manichees)! His mother, Monica, like so many mothers of wayward children today, despaired of her son's salvation. But, her pastor, Ambrose (who also became a saint!), gave her some sage advice: "Spend more time talking to God about Augustine than you do talking to Augustine about God".
Monica's prayers were answered in time. Not only did Augustine return to the Faith, but her unbelieving husband became a Catholic as well. Augustine had to take classes from Ambrose in order to reenter the Church (the equivalent, of sorts, of an RCIA class today). During this time, he took on another mistress! Augustine famously prayed at this time, "Lord, make me chaste, but not yet!".
But, eventually, Augustine realized the incredible dangers of sexual sin, as the first reading strikingly reminds us. And he also realized that only God could satisfy his need for love. To this end he wrote a far more famous prayer, perhaps the greatest line ever written outside of Sacred Scripture: "You have made us for yourself, O Lord, and our hearts are restless until they rest in You".
If Augustine could become a saint, so can I. And, so can you: "This is the will of God, your holiness".
http://www.thefaithexplained.com/content/uploads/2015/04/FX-logo@2x.png
0
0
Cale Clarke
http://www.thefaithexplained.com/content/uploads/2015/04/FX-logo@2x.png
Cale Clarke
2009-08-28 22:00:23
2009-08-28 22:23:48
Two "Familiar" Saints