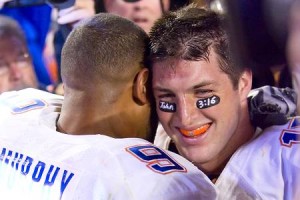 Just a couple of nights ago, I returned home from teaching the Bible Study class at St Justin Martyr, and, exhausted, flopped down to watch the end of the national championship game for U.S. college football. The University of Florida Gators, led by quarterback Tim Tebow, last year's Heisman winner, defeated the University of Oklahoma Sooners. 
Tebow, a devout Evangelical Christian, wore eyeblack with "John 3:16" written across it in white letters (see photo). From all accounts, Tebow is sincere in his beliefs. He was actually born in the Philippines, where his parents are missionaries. They run, among other things, an orphanage. Tim himself often travels there to help out and preach to the kids there about Jesus Christ.
The only problem is, he's defeating his own purpose.
No doubt most of his "converts" are Catholics. The Philippines, as most are aware, is a heavily Catholic country. During my Evangelical years, my own pastor and his family would travel to the Philippines and conduct crusades. I still possess a coffee mug he brought home for me. It says, "Reaching and touching Filipinos for Christ". My wife (whose parents were born in the Philippines) and I still laugh about that mug. But we could just as easily shed tears. That's because, as sincere and as well-intentioned as my pastor – and Tebow – are, they are sincerely wrong.
Unaware that the Catholic Church was founded by Christ and is the true Church, they, in convincing Filipinos to leave it, are unwittingly drawing them further from the touch of Christ.
And sadly, because some Filipinos (like many Catholics everywhere) are not well grounded in the reasons for their faith, they're easy pickins' for these movements.
If only they and their would-be evangelizers would heed the words of Saint Ignatius of Antioch, writing in his Epistle to the Smyrnaeans (c. 107 AD), echoing the words of Jesus in John 6:
Take note of those who hold heterodox opinions on the grace of Jesus Christ which has come to us, and see how contrary their opinions are to the mind of God … They abstain from the Eucharist and from prayer because they do not confess that the Eucharist is the flesh of our Savior Jesus Christ, the very same flesh which suffered for our sins and which the Father, in his goodness, raised up again. They who deny the gift of God are perishing in their disputes. 
It is by the Eucharist, safeguarded in the Catholic Church, that we are physically reached and touched by Christ himself.
http://www.thefaithexplained.com/content/uploads/2015/04/FX-logo@2x.png
0
0
Cale Clarke
http://www.thefaithexplained.com/content/uploads/2015/04/FX-logo@2x.png
Cale Clarke
2009-01-10 15:05:07
2009-01-15 23:36:11
Tim Tebow, the Philippines, and the Catholic Church