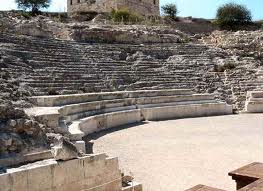 Note: For much more on Sepphoris, and on other amazing archaeological finds that illuminate Jesus' life, you will definitely want to grab a copy of Dr. Craig Evans' excellent book Jesus and His World: The Archaeological Evidence here!

As we continue our tour of Sepphoris, let's look at some clues in the Gospels that this city may have influenced Jesus' ministry. We all know that Jesus was a master at pointing out profound lessons from the everyday world that he lived in. Witness his many agricultural parables: having faith as a "mustard seed", the "lost sheep", etc. I believe there is a high probability that Sepphoris was a part of that world, and figures prominently in Jesus' preaching  – especially in the Gospel of Matthew. It is thus a potential boon for understanding and clarifying certain aspects of Jesus' teachings.
For example, the "city set on a hill (that) cannot be hidden" (Matt 5:14) may have been inspired by Sepphoris, which was indeed elevated. Its evening lights may have been visible to the inhabitants of Nazareth.
One of the most impressive discoveries resulting from the archaeological excavations that took place in Sepphoris during the 1970s and 1980s was its impressive public theatre. It was indeed a splendid structure; its first phase would have been completed in the 20s in the first century AD, carved out of the local bedrock. Its original seating capacity was about 2,500. Could it be that Jesus and Joseph worked on its construction? We will never know. A further expansion of the theatre took place decades later, which enabled it to hold 4,000.
Jesus' references to "hypocrites" (cf. Matt. 6:2, 5, 16; 7:5; 15:7; 16:3; 22:18; 23:13, 14, 15, 23, 25, 27, 28, 29; 24:51; Luke 6:42; 11:44; 12:1, 56; 13:15), an originally innocuous word that referred to "actors", or "play-actors", may have been expropriated from the theatre at Sepphoris. Jesus used the term "hypocrite" to excoriate the people-pleasing, insincere piety of some scribes and Pharisees of his day.
Jesus admonishes his disciples not to practice their piety "before people, in order to be seen by them" (Matt 6:1). The term translated as "to be seen" is the Greek word theathenai, from which we derive the English word "theatre". Jesus advises people not to draw attention to their charitable giving: "So whenever you give alms, do not sound a trumpet before you, as the hypocrites do" (Matt 6:2). The sounding of the trumpet signified a change of scene during a play. Jesus further says "When you give alms, do not let your left hand know what your right hand is doing, so that your alms may be in secret; and your Father who sees in secret will reward you". Skillful actors coordinated the movements of their hands to match their actions, drawing attention to what was done.
Jesus teaches his followers not to "be like the hypocrites; for they love to stand and pray in the synagogues and at the street corners, so that they may be seen by others" (Matt 6:5). This alludes to an actor who stands and performs a soliloquy on stage.
Jesus also encourages his disciples not to "look dismal" when they fast, unlike "the hypocrites", who "disfigure their faces that their fasting may be seen by people" (Matt 6:16). Mimes would paint their faces in order to play a role. Overall, Jesus encourages us to live not for the applause of others, but rather for the applause of One: God alone.
http://www.thefaithexplained.com/content/uploads/2015/04/FX-logo@2x.png
0
0
Cale Clarke
http://www.thefaithexplained.com/content/uploads/2015/04/FX-logo@2x.png
Cale Clarke
2013-11-20 23:20:48
2013-11-21 06:39:37
The Israel Chronicles: Sepphoris (Part II)