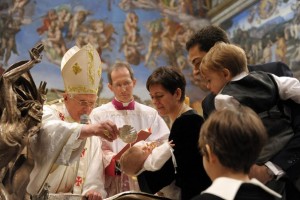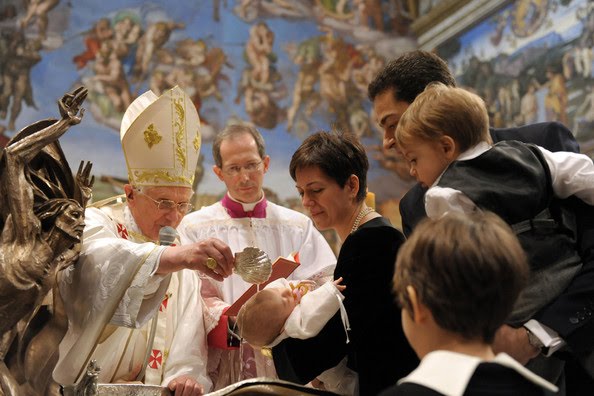 I cringed inside when I saw the YouTube video. A friend of mine was getting baptized – for a second time. Why would he do that, you ask? He would explain during the video. The clip was from a testimony he gave just before getting rebaptized in a non-Catholic congregation. He spoke of how his original baptism in the Catholic Church had occurred when he was a mere infant. He had obviously had no choice in that matter – and what's more, he called infant baptism "unbiblical". But this second baptism would be of his own volition, and would prove his own personal commitment to Christ.
I cringed because this second baptism, unbeknownst to him, was ineffectual. Baptism is an unrepeatable sacrament. But I also had to laugh, because I had made the same mistake. Like my friend, I had grown up Catholic, but was poorly catechized. I, too, had left the Catholic Church at approximately the same age as this friend – in my early 20s. And I, too, had been rebaptized in a non-Catholic setting, affirming that "believer's baptism", as it is known, was the correct praxis. I, too, had made the same speech about how unbiblical infant baptism was. But little did I know.
In today's Gospel reading at Mass, we have one of the scriptural proofs for infant baptism:
People were bringing children to Jesus that he might touch them, but the disciples rebuked them. When Jesus saw this he became indignant and said to them, "Let the children come to me; do not prevent them, for the Kingdom of God belongs to such as these. Amen, I say to you, whoever does not accept the Kingdom of God like a child will not enter it." Then he embraced the children and blessed them, placing his hands on them.
– Mark 10:13-16
Infant baptism is done in the Catholic Church because we refuse to prevent children from coming to Christ. This is for many reasons, but I will highlight only two, lest this blog post become a small book:
1. The Covenant includes children, and
2. They need it.
1. The Covenant includes children. In the Old Covenant, children were included in God's family, Israel. All male children entered the Covenant by means of circumcision. The New Covenant people of God are incorporated into his family by means of baptism, which replaces circumcision. This is why Saint Peter preaches at Pentecost, "Repent and be baptized, every one of you, in the name of Jesus Christ for the forgiveness of your sins; and you will receive the gift of the holy Spirit. For the promise is made to you and to your children…" (Acts 2:38-39, emphasis mine). Entire households were baptized in the early Church as a matter of course (cf. Acts 16:15, 33; 18:8; 1 Cor 1:16).
2. They need it.
Born with a fallen human nature and tainted by original sin, children also have need of the new birth in Baptism to be freed from the power of darkness and brought into the realm of the freedom of the children of God, to which all men are called. The sheer gratuitousness of the grace of salvation is particularly manifest in infant Baptism. The Church and the parents would deny a child the priceless grace of becoming a child of God were they not to confer Baptism shortly after birth.
– Catechism of the Catholic Church, paragraph 1250
http://www.thefaithexplained.com/content/uploads/2015/04/FX-logo@2x.png
0
0
Cale Clarke
http://www.thefaithexplained.com/content/uploads/2015/04/FX-logo@2x.png
Cale Clarke
2011-02-26 22:55:47
2016-01-10 16:16:59
The Biblical Basis for Infant Baptism