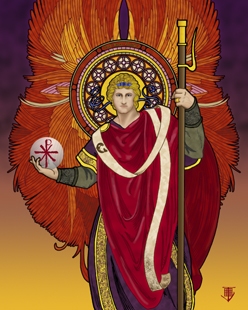 Today is the feast of the Archangels Michael, Gabriel and Raphael. In the Old Testament book of Tobit, St Raphael encourages Tobias to marry Sarah: "But do not be afraid, for she was set apart for you before the world existed" (Tobit 6:18).
This beautiful verse reminds us that it is not only priests and consecrated religious who have a special vocation in the Church. Although marriage is by far the more common vocation, it is no less a specific call that requires help from above to discern. And the reason it's specific is that one called to marriage is never called to marriage in general, but in particular.
That is, if you are called to marriage, God's design from all eternity is for you to marry a specific person – and for that person to marry you! If you are married, thank God for how he arranged your first meeting with your spouse, no doubt with the help of your guardian angels. Who knows? You may have even had the assistance of that heavenly matchmaker, St Raphael himself.
http://www.thefaithexplained.com/content/uploads/2015/04/FX-logo@2x.png
0
0
Cale Clarke
http://www.thefaithexplained.com/content/uploads/2015/04/FX-logo@2x.png
Cale Clarke
2010-09-29 21:55:07
2010-09-29 21:55:07
St Raphael on Marriage