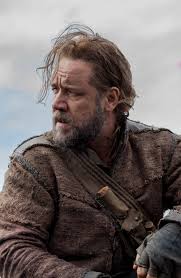 Q. The movie Noah, starring Russell Crowe, has inspired me to look into the biblical Noah. What does the Bible say about Noah and the Flood in Genesis 6:5-8:22?
A. It's important to realize, as scholar John Walton reminds us, that the biblical account of the Flood has been "watered down" by the way most of us learned about it in Sunday School. Kids love boats and animals, so most childrens' books and materials about the Flood focus on these things.
As we get older, we should realize that the main message about the Flood is not about Noah, the animals, the ark, or the water. It is about God. In fact, Noah never speaks at all in the account of the Flood. We only hear what God thinks about Noah – that he was "a righteous man, blameless among the people of his time, and he walked with God" (Genesis 6:9). This is the standard we should aim for, too. God notices and cares when people try to live for him in the midst of a depraved culture – like the one Noah lived in, or like the one we live in today.
Q. What does the Flood account teach us about God?
A. Saint Peter, writing in the New Testament, teaches that the Flood reminds us of the approaching final judgment (2 Peter 2:5; 3:5-6). Walton points out four facts we can learn from this:
1. "The Lord knows how to rescue godly people from trials and to hold the unrighteous for the day of judgment" (2 Peter 2:9).
2.  The only reason God is delaying the final judgment is to allow more people time to turn back to God. But this is a "limited-time offer" that will not last forever: "The Lord is not slow in keeping his promise, as some understand slowness. He is patient with you, not wanting anyone to perish, but everyone to come to repentance" (2 Peter 3:9).
3. The Flood meant destruction for the wicked, but a new world for those who were saved. The same will occur in the future: "But in keeping with his promise we are looking forward to a new heaven and a new earth, the home of righteousness" (2 Peter 3:13).
4. These future realities should impact the way we live our lives today: "Since everything will be destroyed in this way, what kind of people ought you to be? You ought to live holy and godly lives" (2 Peter 3:11).
http://www.thefaithexplained.com/content/uploads/2015/04/FX-logo@2x.png
0
0
Cale Clarke
http://www.thefaithexplained.com/content/uploads/2015/04/FX-logo@2x.png
Cale Clarke
2014-04-15 12:58:19
2014-04-15 13:00:32
Q and A on Noah