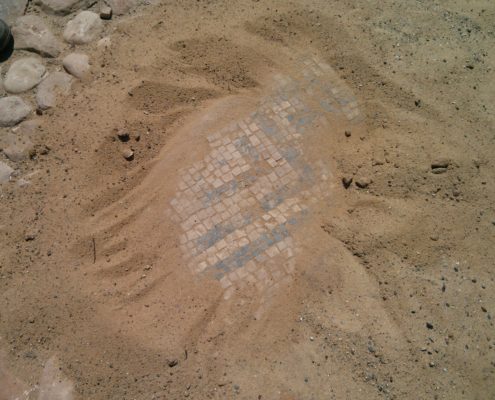 On this Feast Day of St. Mary Magdalene, I thought I'd let you know about the incredible excavation going on at her hometown – Magdala, known as Migdal in Hebrew. In 2013 and 2014, I had the privilege of visiting the work at Migdal, along with Dr. Craig Evans, Greg Monette, Dwight Crowell and Jesse Richards. Migdal, which was built just next to the Sea of Galilee, is an incredible archaeological find – it's unique in that the entire first-century town has been unearthed.
During the great Jewish War with Rome (66-70 AD), the citizens of Migdal themselves destroyed their own synagogue – literally bringing down the house upon itself. They did this to prevent it from being desecrated by the Roman army, who either slaughtered Migdal's inhabitants, or carried them off into slavery.
I took this photo of some of the original mosaic tile found on the synagogue's floor. In all likelihood, Jesus stepped onto this very floor while preaching in Migdal, during his years of ministry in the Galilee. In all likelihood, this is where Mary of Magdala first heard Jesus' message, and became a disciple of the Master. This is absolutely unique. In Capernaum (Kafir Nahum), the impressive synagogue that can be seen today is actually a fourth-century structure, built on top of the foundation of the original structure (made of black basalt stone, which can still be seen on the exterior) extant in Jesus' time.
In Migdal, we are truly walking in the footsteps of Jesus.
http://www.thefaithexplained.com/content/uploads/2015/04/FX-logo@2x.png
0
0
Cale Clarke
http://www.thefaithexplained.com/content/uploads/2015/04/FX-logo@2x.png
Cale Clarke
2016-07-22 20:38:46
2016-07-22 20:38:46
On the Feast of Saint Mary Magdalene: A Visit to Migdal