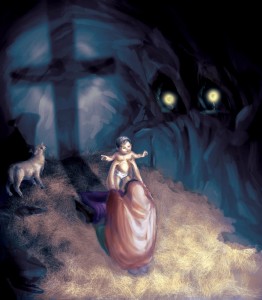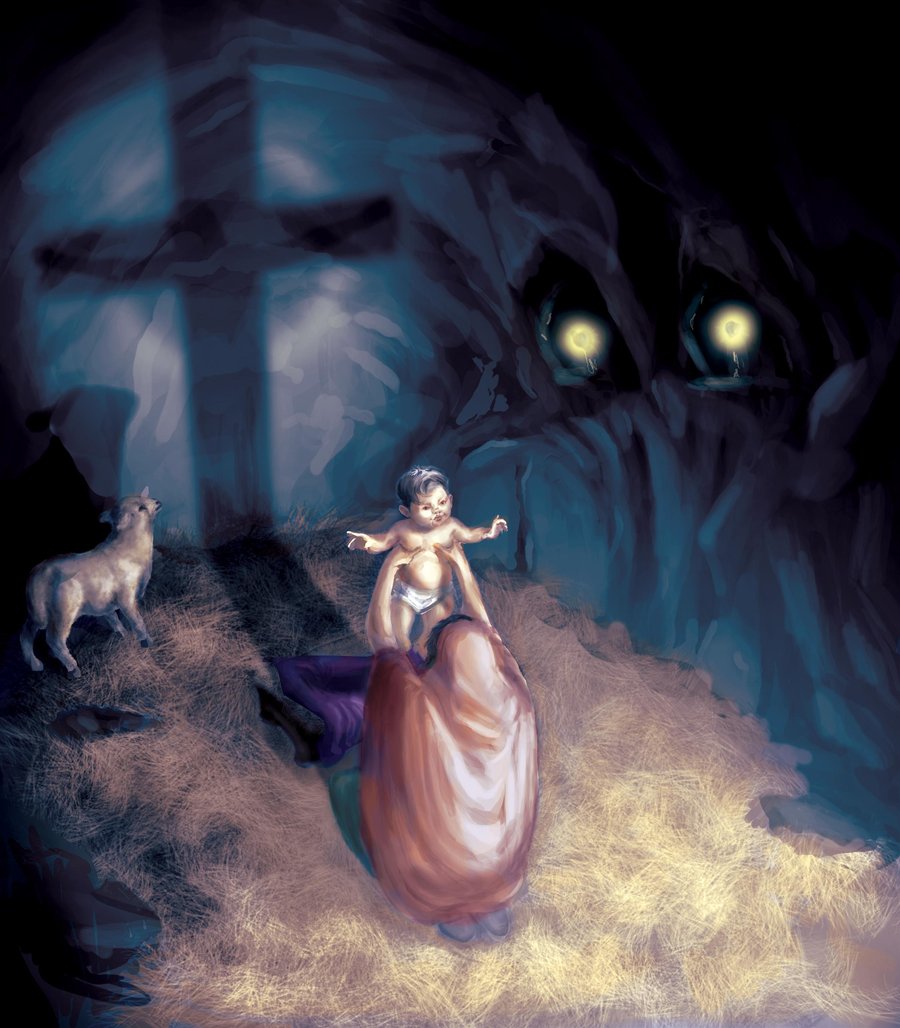 Merry Christmas from all of us at The Faith Explained!
John's gospel portrays Jesus as King of the Universe, and his throne is a cross. From the cross, King Jesus reigns, and he teaches. In fact, looking upon a crucifix can be a catechism unto itself. Catholics are often asked by other Christians, "Why do you always insist on placing the crucified Christ before our eyes? Don't you know that he is risen?" Well, of course we do. The reason we place crucifixes in churches is very simple: when we behold the Lord upon the cross, we are contemplating the greatest act of love the world has ever seen. The lessons Jesus would teach from the wood of the cross were prefigured in many ways by those he proclaimed from the wood of the manger in Bethlehem.
Jesus "began to do and to teach", even before he uttered intelligible words. He began teaching from the very moment of his conception in the womb of his Immaculate mother. When Mary, carrying our Lord in utero, approached her relative Elizabeth, who was pregnant with John the Baptizer, John leapt in the womb. The lesson was clear: being near Jesus always brings joy. And in Bethlehem, on the night of his birth, he taught us even more.
Jesus teaches us humility: the God-Man chose not to be born in a palace, but in abject poverty. No place for them in the inn, Mary gave birth to Jesus in a type of cave, where animals were kept. Ironically, the name Bethlehem literally means, "the house of bread". The bread of life, Jesus, who would later give us his flesh and blood to consume in the Eucharist, had for his first crib a manger, a wooden feeding trough.
He teaches us detachment. It is not worldly goods that will bring us lasting happiness; it is being with Christ, even in the poverty of that first Christmas. He also teaches us not to seek the praise of men, but only the applause of heaven. The shepherds, not the elite of Jerusalem society, found Christ in the manger, even though they were considered little more than scum in the eyes of their fellow Israelites.
The infant Jesus also teaches us not to attempt to impose our opinion on others. In his second coming, no one will be able to deny the reality of Jesus as God. But at Christmas, as a helpless infant, Jesus chose to be vulnerable, able to be rejected – and he was. The reason Mary had to give birth in that cave-stable was that door after door had been shut in Joseph's face as he sought a place for the Holy Family to stay. Those people had no room in their lives for Jesus, or the lessons he teaches. May that never be said of us.
http://www.thefaithexplained.com/content/uploads/2015/04/FX-logo@2x.png
0
0
Cale Clarke
http://www.thefaithexplained.com/content/uploads/2015/04/FX-logo@2x.png
Cale Clarke
2011-12-25 22:28:48
2011-12-25 22:55:08
Lessons from the Christmas Manger