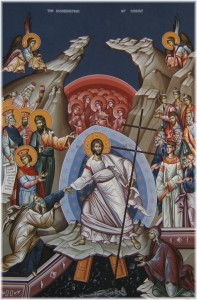 The Bible is refreshingly clear about what is at stake if the Resurrection of Jesus didn't happen: "If Christ has not been raised, our preaching is useless, and so is your faith…but Christ has indeed been raised from the dead" (1 Corinthians 15:14, 20). Today, Easter Sunday, is the first day of the Octave of Easter (in the Church, it is as if Easter lasts as one continuous day until next Sunday), with the rest of the liturgical season of Easter to follow. So, over the next while, I'll offer some solid reasons why we can be certain that Jesus indeed rose from the dead. Keep in mind that these facts are accepted by the vast majority of critical scholars, be they believers or not.
Reason 1: The Jerusalem factor. When the Apostles began publicly preaching that Jesus had been physically resurrected from the dead, it is not as if they began by travelling to some faraway land, to tell people who had no means of investigating the veracity of the event. It wasn't like "Star Wars" – "Let me tell you about something that happenned 'a long, long time ago in a galaxy far, far away.'" No, the Apostles began proclaiming the Resurrection in Jerusalem – the very city where Christ had been publicly killed. There is simply no way they could have done so if it were not true.
It's instructive to note the response of the religious authorities of Jerusalem to this message: they didn't say, "Jesus isn't risen! He's still in his tomb – and let us show you hs remains and put an end to this foolishness once and for all". Their response was actually to say, "The disciples stole the body". In other words, the enemies of the Gospel message admit the reality of the empty tomb. This response is noted in the Gospel of Matthew, chapter 28 (vv. 11-15), where it is said that "this story (of the stolen body) is told among the Jews to this day" (v. 15). Saint Justin Martyr, in his "Dialogue with Trypho", notes that this response was still commonly heard among Jews in the mid-2nd century when he was writing.
In the next post, we'll examine more evidence that Jesus rose from the dead in his physical body, leaving an empty tomb behind.
http://www.thefaithexplained.com/content/uploads/2015/04/FX-logo@2x.png
0
0
Cale Clarke
http://www.thefaithexplained.com/content/uploads/2015/04/FX-logo@2x.png
Cale Clarke
2011-04-24 13:23:52
2011-05-04 15:40:30
Authenticating the Resurrection of Jesus: the Jerusalem factor