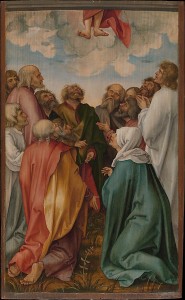 Q. What are some things we can learn from this Sunday's Feast of the Ascension of the Lord?
A. The Ascension affirms in the minds of Jesus' followers many truths that Jesus had attempted to teach them prior to his Passion. Now, following Jesus' glorious Resurrection and victory over death, the disciples can finally appropriate these realities.
1. Jesus is Divine. In today's Gospel reading from Matthew 28, we read that, before Jesus Ascends into heaven, the disciples "worshipped him". Jesus accepts worship, which is due to God alone. The implication is obvious: Jesus is God.
2. Christ will be waiting for us in Heaven. It was fitting that those who had witnessed the humiliation and suffering of the Christ at the hands of sinful humanity would now see Jesus exalted. Prior to his Passion, Jesus had told them: "I am ascending to my Father and your Father, to my God and your God" (John 20:17). That process is now complete. In today's First reading, we read that, as the disciples watched in awe, Jesus "was lifted up, and a cloud took him out of their sight" (Acts 1:9). The cloud, Scripture tells us, is an image of heaven, the abode of the Almighty (cf. Exodus 13:22; Luke 9:34ff).
Jesus had said previously, "'Let not your hearts be troubled; believe in God, believe also in me. In my Father's house are many rooms; if it were not so, would I have told you that I go to prepare a place for you? And when I go and prepare a place for you, I will come again and will take you to myself, that where I am you may be also. And you know the way where I am going.' Thomas said to him, 'Lord, we do not know where you are going; how can we know the way?' Jesus said to him, 'I am the way, and the truth, and the life; no one comes to the Father, but by me.'" (John 14:1-6).
Saint Leo the Great, preaching on the Ascension of Christ, said, "Today, we are not only made possessors of Paradise, but with Christ we have ascended, mystically but also really, to the highest Heavens and have won through Christ a grace more wonderful than the one we had lost."
3. The Ascension spurs us on in sharing our Catholic Faith. Jesus tells his disciples that it is now time for them to begin spreading the Gospel everywhere they go: "All power in heaven and on earth has been given to me. Go, therefore, and make disciples of all nations, baptizing them in the name of the Father, and of the Son, and of the Holy Spirit, teaching them to observe all that I have commanded you. And behold, I am with you always, until the end of the age" (Matthew 28:18-20).
The disciples returned with Mary to Jerusalem to prepare for the gift of the Holy Spirit. Empowered with God's gifts, let us also seek to reach the people we know with the Good News of the Gospel. Our Lady will help us, too, just as she did those first believers in her Son.
You may also like: Q and A on the Ascension
http://www.thefaithexplained.com/content/uploads/2015/04/FX-logo@2x.png
0
0
Cale Clarke
http://www.thefaithexplained.com/content/uploads/2015/04/FX-logo@2x.png
Cale Clarke
2014-06-01 16:25:54
2014-06-01 16:29:19
Ascension Sunday Q and A