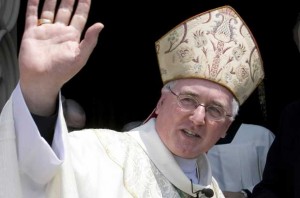 When we set about creating The New Mass iPhone app, the very first person I called was Archbishop Terrence Prendergast of Ottawa. He and I had met when we were presenters at a couple of conferences. He was also the only Canadian on the translating committee for the new English version of the Mass. Recently, he was interviewed by the National Post's Charles Lewis on the importance of the new Roman Missal:
Q. Is it more sacred language?
A. There are different types of speech: for the pub, at work, on a television talk shows; and another more suitable for worship.  The early translation was more pedestrian, let us say; this one has a higher literary register, though still familiar, as is fitting for sons and daughters of God.
Q. Proponents of the new missal say if nothing else the new language will force people in the pews to think more about what they're saying and think about what it means. Do you agree?
A. Yes, especially at first when the translation will be strikingly novel. I believe the people in the pews will adapt to the translation fairly quickly; however, the priests will need a bit more time and the laity will need to be patient with them.
When it comes to certain terms — for example, speaking of the death of Jesus "for many" rather than [the current] "for all" — it will be an apt opportunity for teaching and clarifying Church doctrine. Similarly with the statement in the Creed that says Jesus is "consubstantial" with the Father rather than "one in being." People will wonder and puzzle over texts and this will give priests and deacons an opportunity to teach the nuances of the faith.
For the full interview, go here.
http://www.thefaithexplained.com/content/uploads/2015/04/FX-logo@2x.png
0
0
Cale Clarke
http://www.thefaithexplained.com/content/uploads/2015/04/FX-logo@2x.png
Cale Clarke
2011-04-20 20:06:28
2011-04-20 20:06:28
Archbishop Terrence Prendergast on The New Mass